For a good reason, window blinds are one of the most prevalent home and office components. They can transform any place into a soothing, peaceful oasis.
However, there are some things you don't know about window blinds, such as how they're created and what advantages they provide for your home.
Window blinds are also frequently placed as components of window treatment procedures. Some customers may think they're a wonderful feature on their windows, but they don't know much about them or how they work. So here are eight things you don't know about window blinds.
#1. Where did Window Blinds Originate From?
Blinds date back to early desert civilizations when people used wet pieces of cloth to shade the windows of their houses. Egyptians subsequently adopted this tradition, who worshiped the sun but disliked its blinding qualities. They adapted the technique to employ reeds from the Nile River, which are far more abundant than cloth.
On the other hand, the ancient Chinese employed bamboo, a considerably more durable material. These, like the reeds, were knotted together to make roller blinds.
The Romans also devised their sort of window blind made chiefly of fabric, which is still a popular option today.
#2. Window blinds last for a long time.
Although it is commonly stated that blinds have a usable life of 7 to 8 years, some people may wish to change their blinds sooner.
Blinds can survive for decades if properly maintained. Regular cleaning, such as dusting and vacuuming, is the most effective approach to maintaining the beauty of the blinds. If necessary, perform a thorough cleaning. Take the necessary steps with the assistance of professionals such as Boca Blinds.
#3. Window Blinds are Simple to Maintain.
Typically, window blinds are relatively simple to maintain. In reality, many blinds only need a quick wipe-down with a moist cleaning cloth now and then to get rid of the dirt. Blinds appear to be the most practical choice compared to curtains, which you must occasionally wash.
#4. Wood vs. Faux Wood Blinds: What is the Difference?
Wood blinds are constructed of genuine wood and have an exceptional appearance that adds a natural, warm, and organic sense to your decor. Faux wood blinds are just replica wood blinds, hence the term "faux," which means "fake" or "artificial.
Faux wood blinds are manufactured from either composite wood or PVC/vinyl. The materials are long-lasting and will not warp, break, or fade, making them ideal for moist areas such as bathrooms and kitchens. Some imitation woods are bulkier and can cause a greater pile at the top of the window, reducing illumination when adjusted.
Faux wood blinds are a cost-effective way to obtain the "natural" aesthetic you desire for your home.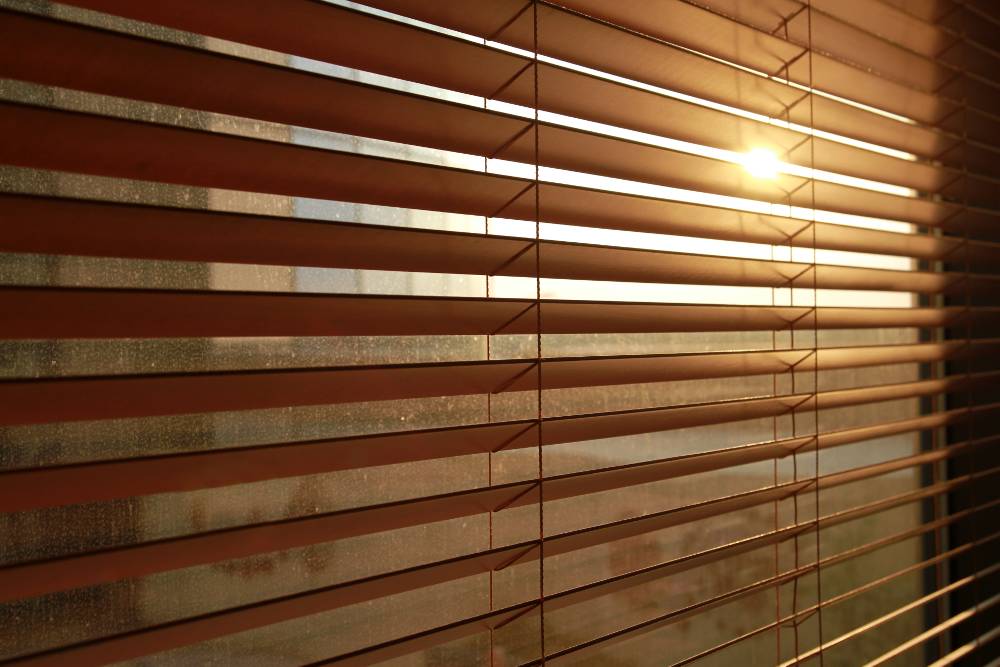 #5. Window Blinds Provide Effective Privacy.
We get a degree of confidence from blinds that's impossible from many other solutions, including curtains. Top-down shades will be a great option for privacy control. Using them, we can drop the cover from the peak, allowing as much seclusion as we need while allowing it for natural light.
#6. The Materials Used to Make Wood Blinds Are Quite Diverse.
You may select the blind that is best for you in terms of budget and appearance, thanks to the diversity of materials used to produce different blinds. For instance, putting in wooden blinds will go well with whatever wooden furniture you have in your living room.
Faux wood is an alternative that you might use if you find real wood blinds to be too pricey. To make sure you can always discover the ideal blinds for any area in your apartment, you then have a variety of materials to pick from, including plastic, bamboo, aluminum, and others.
Wooden Slat Window Blinds for the Interior
Wooden blinds offer a classic design that enhances the angles of any room. For maximum personalization, a range of coatings, slat sizes, upgrades, ornamental tapes, and specialized forms are offered.
The indoor wooden slat window coverings offered by Boca Blinds have a classic design that complements the lines in any area in your space. When you design them directly through us, you may select from a choice of finishes, slat sizes, ornamental tapes, and more. Once installed, wooden window coverings will look fantastic and be quite sturdy. They are also simple to maintain and can provide your window frames and glass with unrivaled protection.
Interior Faux-Wood Window Blinds
Despite being perfect for locations with severe humidity, extreme temperatures, and direct sunlight, faux wood blinds have the opulent appearance of real wood blinds (as mentioned before).
The indoor imitation wood window coverings from Boca Blinds look like real wood from a distance, but they aren't. Instead, they closely resemble the opulent wood blinds offered by Boca Blinds. However, they are a less costly solution for South Florida residents. They are the best choice for individuals who live in homes that are more susceptible to high humidity and extreme temperatures. Additionally, they can withstand direct sunshine without fading or developing wear and tear.
#7. There are Many Different Colors and Designs Available for you to Choose From
You can design the ideal look for your kitchen, living room, or washroom using window blinds because they are available in infinite designs, colors, and patterns.
Select from various blinds, including micro blinds, vertical blinds, roman blinds, and even wireless blinds, which are both incredibly stylish and safer for kids and animals.
#8-Choosing the ideal Windows Blinds: Where can I find Window Blinds Experts?
Consider getting window blinds in any style you like for your office or rooms in your house. They can not only become a unique element of the area, but they also do not have to be expensive. In fact, they are frequently less expensive to buy and install than curtains, particularly if you select a faux wood option rather than real wood.
Boca Blinds has several years of extensive experience in installation services for faux wood and wood blinds in a variety of styles and colors.
Since 1976, Boca Blinds has been delivering excellent and dependable window blind services in South Florida.
Our expertise in all types and designs of window shades is unrivaled in the industry.
So, the next time you go window blind shopping, please contact us for professional advice on the best window blinds for your needs. We guarantee you will not be disappointed.
The Finish Line
A fantastic way to solve some of the issues that windows in your home can bring up is using window blinds. You might not realize it, but they are helpful for a ton of other things as well. Seasons and the time of day affect how we can use blinds; they can be utilized as a thermal or light shield or as a privacy screen.
The subject of window blinds is rather broad, as you can see. I hope this post has helped you understand more about them and choose the one that best fits your requirements.
Don't forget to get in touch with us for qualified advice and to share your thoughts in the comments.